Absolute Positioning in Autodesk 123D Design
Thu, Nov 27, 2014 One-minute read
If you're looking for a way to position an object in an exact spot in Autodesk 123D Design, you might have stumbled on forum topics like:

The last meaningful response was:

It doesn't appear to have been added yet. Or it has been newly added, and the usability leaves something to be desired. In any case, it's not as easy as you might think, but here's a technique that works in version 1.6.41:
Click on the Ruler tool under the "Adjust" menu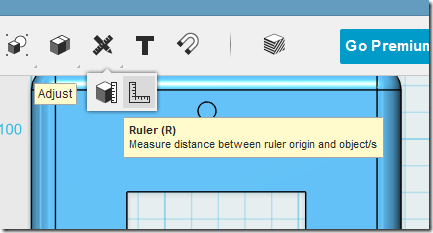 Place the ruler on the origin

Select your object
You can now see lots of measurements about it, including how far it is from the origin.

Click on a Manipulator (thick arrow)

Enter your position in the measurement box that appears